Davido Accused Of Murder By Actress Caroline Danjuma (Photos)
Superstar music star, Davido has been involved in a messy story that's making rounds on social media.
The singer has been reportedly called out by Actress Caroline Danjuma in relation to the death of one Tagbo, who she claims was Davido's close friend before his death. She claimed that the deceased died in the car of the superstar artist, only for his body to be dropped off at a hospital by Davido and his crew members.
She further claimed that after Davido's sad role in the death of the young man, the singer and his crew returned to their fun spot acting like nothing happened and went ahead to promote Davido's show.
The source of the news remains unconfirmed but a picture was made available online, showing what looks like the actress' social media post in which she called out Davido to prepare to be served unbiased justice. The actress further stressed that the accused would need more than money to bury the case. According to her:
"if u (Davido) think ur money can save u, u just met ur match… Promise.."
A look at Caroline Danjuma's Instagram page which she reportedly operates using the username, @st_lilybeth but it appears that the initial post has been pulled down.
The actress seem to maintain her stance after she was challenged about the validity of her claim by one of her followers. This story is still developing, more details later.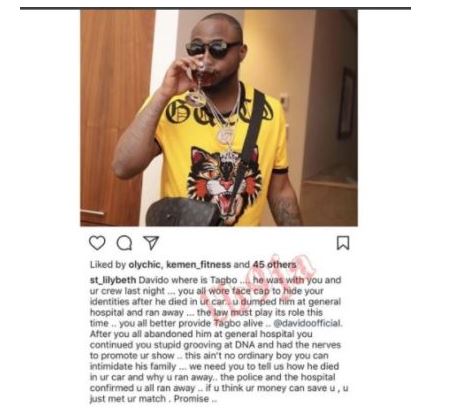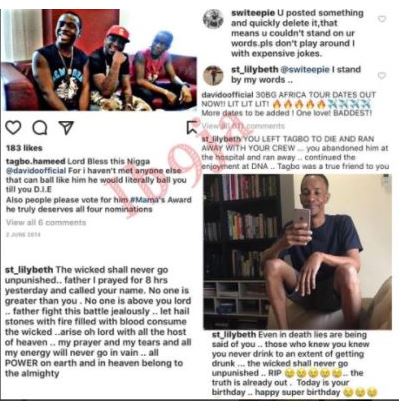 An ace writer and a poet, outgoing and gregarious with an electrifying personality second to none. Love taking calculated risks, the prince of patience ruling till eternity. Lawrence is the name and i say hello to you!!!